RevenueVision® eNewsletter for Higher Education - January 2017
Fri, 01/27/2017 - 09:23
sdgadmin

Welcome Recent Additions to the RevenueVision® Family!
Our adoption rate continues to grow. We are happy to welcome a dynamic group of new schools to our list of subscribers, including:
University of Pennsylvania
Villanova University
University of Utah
New Mexico State University
Case Western Reserve University
Norfolk State University
UNC Greensboro 
A Glance Back and a Look Forward – Tom Strange, President & CEO
2016 was an exciting year for SDG.  We introduced three major releases of RevenueVision®; we added terrific new customers across every segment of higher education including flagship public and private research universities, the Ivy League, community colleges and HBCUs; and most importantly, we have continued to provide real measurable value to our customers through their use of RevenueVision®.
 2017 will be an interesting time in the world of higher education.  With the unknowns around a new climate in Washington, combined with the continued challenges related to student attraction and retention, student loan debt, and tuition discounts, our community will be faced with even greater pressure to perform at the highest levels of financial and operational efficiency.  At SDG, we view it as our job to help our customers operate at those high levels. 
Looking ahead in 2017, we will further enhance RevenueVision® to allow our customers to exchange ideas and best practices with each other directly through the RevenueVision® platform.  We will provide access to the business analytics reports and graphics from the RevenueVision® main dashboard – allowing users to keep pulse of their operations as soon as they login with their "Morning Cup of Coffee" view of their data.   We will take the first steps to establish a formal RevenueVision® User's Group – allowing for additional collaboration and product development ideas and suggestions from our RevenueVision® family.  By formally combining the talents and input of our customers with those of our Client Services and Development teams, we will be able to make a great product even better.  Onward and upward!
It's all About the Return 
Higher education continues to face financial difficulties.  As such, each purchase decision needs to be looked at carefully to ensure that it is in the best interest of the institution to move forward.  When evaluating software, one of the most significant evaluation factors is the return on investment.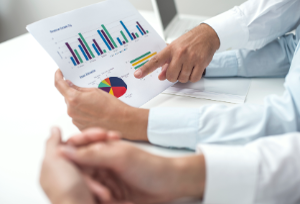 With a typical bottom line impact of $125K-$250k annually, a campus wide subscription to RevenueVision® will pay for itself nearly 4-8 times each year.   Here are real examples of the return that RevenueVision® has brought to our clients:
One four-year school learned through RevenueVision® that their dining provider was applying additional markups to their smallwares and equipment purchases, which was not allowed through their contract.  This resulted in a reimbursement of over $500,000.
One institution used our analytics tool to quickly determine that if they had accepted a new commission proposal from their beverage provider, they would have lost over $25,000 annually in commission.  In 30 minutes, they were able to analyze 2 years of history, using the current and then proposed commissions.
A director of auxiliaries was new on the job and did not realize that the school had to ask for an in-kind contribution in order to receive it.  The alerts feature in RevenueVision® brought this to their attention the day before the deadline.  They would have lost over $8,000 in this contribution, had they not asked for it.
Another school automated the reconciliation and reimbursement using RevenueVision® for their off-campus merchant card program.  This resulted in 20 hours per week in labor savings.
Using RevenueVision® to manage their catering accrual account, one client discovered that their dining provider had overcharged them by over $10,000 in just two catering events.
Our Clients Shared their Successes with RevenueVision® 
A huge thank you to Gheretta Harris formerly from Wright State, Mark Kraner from George Mason and Martha Davidson from Duke for presenting how RevenueVision® is being utilized at their campuses at NACAS and NACUFS conferences in 2016.   
Optimizing Staffing and Delivery Levels
There has been significant progress in using data analytics to help with student retention related to the academic mission in higher education, but until recently, little attention has been paid to using analytics and business intelligence in the areas of student services and auxiliary services.   RevenueVision® customers are changing the paradigm and are making more timely and better business decisions using the RevenueVision® business intelligence tools.
The ability to combine data from multiple sources such as vendor reports, point of sale systems, student card systems and others and perform detailed analysis on that data provides the ability for managers to gain a thorough understanding of their business operations.  Better understanding leads to better decision making producing positive operational and financial outcomes.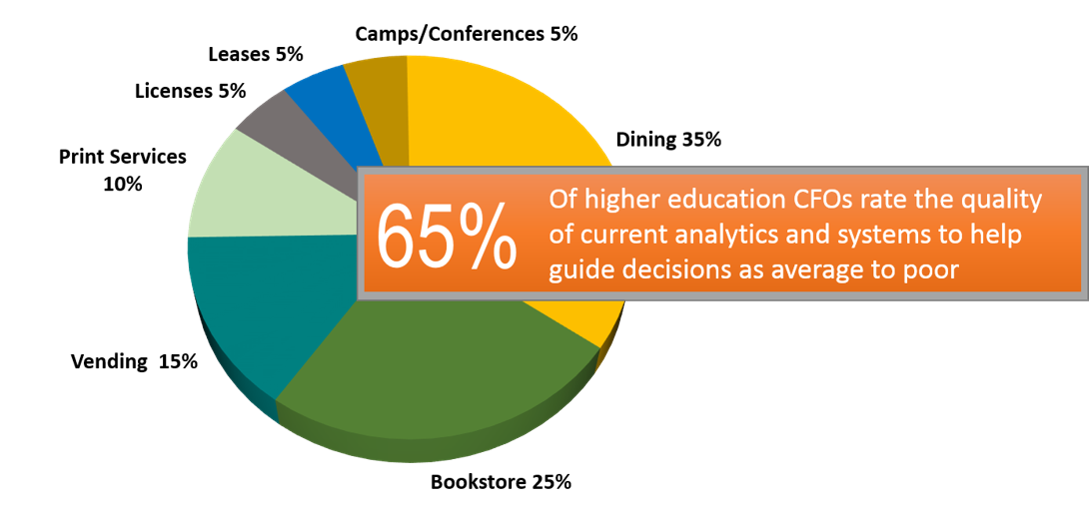 The RevenueVision® business intelligence tool can be used to track any type of financial or operational statistic.  Client examples include:
Monthly Bookstore Sales by Product Type and Category
Weekly Event Sales by Venue and Event Type
Daily Dining Sales by Location and Tender Type
Daily Labor Expenses by Labor Category and Location
Vending Sales by Location Type, Product Type and Vending Machine
By tracking these operational statistics, one school was able to better identify the busiest times of day in each of their dining locations and optimize staffing accordingly, another was able to determine which types of events provide the greatest concession revenues in its performing arts center; and yet another was able to determine which locations provided the greatest opportunity to increase vending revenues having nearly an immediate impact on the bottom line.
If you're tired of spending precious time to manually gather and assemble data and are looking for real intelligence to proactively impact results, please contact us to learn about a better way.
On the Road Again This Spring
Meet RevenueVision® representatives at the following upcoming industry events this spring:
To Learn more about RevenueVision®, contact us at: 
Sales@RevenueVision.com or 407-382-1959